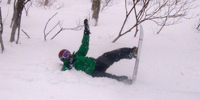 Hi, I'm Michael Shaw.
I'm a software developer with a passion for safe languages (Swift, Rust, Haskell, Scala etc.), computer graphics, distributed systems and user privacy. I'm also a hobbyist game developer and I love ice hockey.
Timeglass
As half of Cosmic Teapot alongside Jaidev Soin, we developed Timeglass, a timer app for iPhone. Apple included it as one of their "10 Best Apps of the Year" for 2016.
Talks